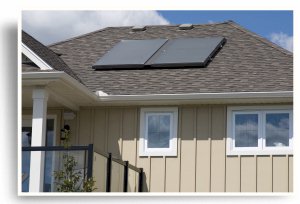 Solar water heaters are an environmentally sound way to reduce energy costs and increase the value of your home. Learn how you can benefit by harnessing free sunlight.

Smart Solar™ by Energy Kinetics
Solar water heating is one of the best ways to save money on your utility bill. You'll also be doing your part to reduce our dependence on foreign energy and reduce green house gas emissions.
The Energy Kinetics Smart Solar water heating appliance is a clean, cost-effective solution that uses the sun's energy to heat your water. The system is attractive, safe, and reliable and requires minimal maintenance over its long operational life. Installation is done by certified professionals and backed by a 10 year limited collector panel warranty.
The Smart Solar water heating system uses flat plate collectors, which are a neutral color and only 3 inches high. On your roof, the system looks just like a quality skylight. The collectors use a patented very low flow, freeze protected heat transfer fluid and high efficiency brazed plate heat exchangers in the energy pack. System components feature overheat protection that keeps the collector temperatures under 250°F when the hot water tank is fully charged. The result is low system pressures and no degrading of the heat transfer fluid.
Solar water heating is simple: the sun's free and renewable energy heats your household water. Solar thermal water heating can be used for water heating, space heating, and pool heating. Harnessing this free solar energy will deliver summertime savings of 85% and winter savings of 35% for a year-round savings of up to 60% on your utility hot water heating bill!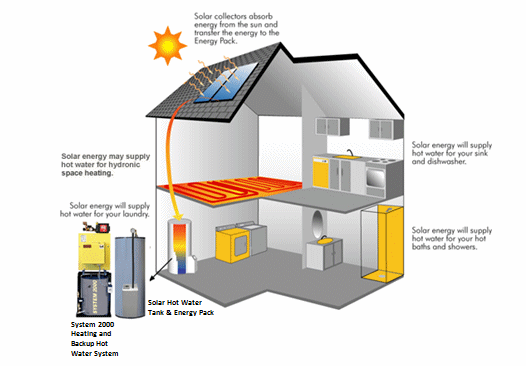 A) Solar Collector
•The absorber plate is designed to absorb 94% of the sun's energy.
• Reliable in all climates
• Freeze protected.
• Patented Stagnation Protection** eliminates overheating.
• Mounts on sloped or flat roofs, south facing walls, outbuildings or a ground rack.
B) Energy Pack
• Mounts easily on any standard North American electric hot water tank which acts as a solar storage tank.
• Patented Passive Anti-Fouling Protection* ensures maintenance-free, reliable operation of the heat exchange
C) Solar Storage Tank
• Stores solar heated water for household use.
• Water stored in the tank is heated by the sun, not electricity.
• Standard two port North American electric hot water tank.
The copper tubing in the Smart Solar collector is a continuous serpentine loop; there are no internal connection points or brazing points to fail. By design, the collector is thermally sealed from the elements so ambient temperature and winds only have a nominal impact on collector performance. Given the same solar conditions, the Smart Solar collector performs as well in the winter as the summer. In fact, the cold winter ground water increases the appliances' heat transfer because the temperature difference is actually higher in winter than summer.
Beyond Solar - Smart Backup

Properly designed and installed solar thermal systems often provide all the heat and hot water we need, although sometimes there is not enough sunlight or the days are too short to meet the comfort levels desired in homes. This means that the heat and hot water requirements for homes range from no load, to intermittent small loads, to full loads. Matching a back-up heating system that is designed to fully integrate with the renewable sources is important.
For the ultimate combination of efficiency and renewable energy, combine System 2000 with natural gas, oil or propane with Smart Solar by Energy Kinetics. This system delivers peak efficiency and is ready in an instant when the sun simply isn't enough.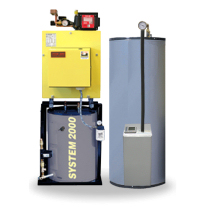 So if renewable sources like biofuels are not available, System 2000's high efficiency integrated heat and hot water provides a high performance solution.

In fact, due to the very low efficiency of U.S. electric generation, transmission and distribution, simply backing up solar hot water with electricity may end up using more energy and greenhouse gas emissions than producing fossil fueled hot water—even without solar! According to the Department of Energy, "In a typical power plant, about one-third of the energy contained in the fuel is converted into electricity, while the remainder is emitted as waste heat."1 Additional distribution losses can be as high as 91/2%, for a delivered efficiency of far less than 30%. It's difficult to make up for these tremendous losses even with a very efficient solar thermal solution.

1To find out more about electric power generation, view the
Energy Information Agency (EIA) report.