System 2000 produces super efficient high output hot water. System 2000 provides nearly endless hot showers; hot water is readily available through a high performance hot water storage tank. System 2000 replenishes hot water as needed, and anticipates when no additional hot water is required. At the end of a hot water call, the burner* automatically shuts down, the Hybrid Energy Recovery® cycle recovers heat left in the boiler and delivers it to the hot water storage tank so no energy is left wasted in the boiler.
Best Efficiency savings with System 2000 are much greater than with comparably rated heat and hot water systems. System 2000 had the highest annual efficiency in the study - even better than the 95% AFUE boiler tested. Also on this page you could run a high efficiency calculator to estimate your savings.
System 2000's whisper quiet operation is extraordinary and continues to lead the industry as the quietest boiler available. Homeowners often compliment System 2000's industry leading design by asking to hear the boiler run on the day of a new install…only to find out that it was already running! Now that's quiet!
Here's what happens when you need hot water:
1. As hot water is used, the tank thermostat signals the Digital Manager and the Digital Manager turns on the burner.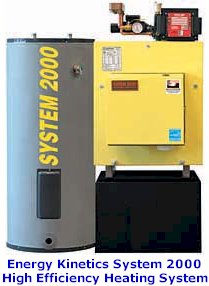 2. Within 90 seconds the domestic circulator is passing water from the storage tank through the stainless steel storage tank through the stainless steel heat exchanger. This charges the top of the tank with hot water. Combined with the boiler it can provide 210 gallons of hot water per hour.
3. When the tank is re-heated, the thermostat signals the aquastat which turns off the burner.
4. The Digital Manager directs the domestic circulator to continue sending cooler water at the bottom of the tank through the heat exchanger. This unique process recovers the heat left in the boiler.
5. The heat is then stored back in the hot water tank, adding to your existing hot water supply. As a result, it's longer before the tank calls on the boiler for additional hot water -- and that conserves your fuel dollars.
THE RESULT: no heat is left wasted in the boiler
Here's what happens when you need heat:
1. The Digital Manager senses your thermostat's requirements and turns on the burner.
2. Within 90 seconds the boiler sends heat through each zone valve into your home.
3. When your thermostat is satisfied, the Digital Manager turns off the burner.
4. The Digital Manager then starts the unique Hybrid Energy Recovery Cycle® that pumps any heat that is remaining in the boiler back into your home. This transfer takes about 20 minutes and guarantees that it will be longer before your thermostat needs to call for
more heat.
5. When the Digital Manager senses another call, the sequence begins again.
THE RESULT: no heat is left wasted in the boiler
System 2000 vs. Electric Heat
ELECTRIC HEAT: No fuel is more costly. The cost of electric heat and hot water is more than four times higher than heating with oil. Why? Because nearly two thirds of the energy used to create electricity is wasted and more is lost in the delivery to homes. As a result, electricity's gallon equivalent cost in the winter of 1997 was approximately $4.45 (versus $.96 for oil)! That expense forced many homeowners to keep thermostats uncomfortably low. And while most homeowners would love to install a more economical heating system, they believe they just can't afford to convert. The fact is, they can't afford to wait any longer.
Electric hot water tanks put budgets in more hot water. Hot water accounts for approximately one-third of the typical home's energy use. To save money, many homeowners with electric water heaters often end up doing their laundry, dishes and showering when electric rates are lower (but still not economical). An inconvenience that lasts all year long.
Utilities can make you nervous about service. Every utility has a federally regulated service area - essentially a monopoly. This not only eliminates the competition which helps keep prices low and competitive, it also eliminates the need to provide outstanding service, since customers aren't capable of switching to a different electric utility.
System 2000 vs. Coal or Wood fired systems
Short term solutions can have long term problems. Desperate for savings, many homeowners install coal or wood fireplace inserts or space heaters - short term solutions which can provide comfort in a few rooms but do little to warm the entire house. Even after investing a significant amount of money, they still have to use electric resistance heat for the remainder of their house and are still saddled with an expensive electric hot water heater. There are other drawbacks to these solutions as well:
Wood Stoves: Aside from the inconvenience of having to stoke them, you must constantly remove ashes, repair and keep cleaning up wood stoves. And according to Pace University data, wood is the most environmentally unfriendly fuel you can burn.

Coal Stoves: Unquestionably the dirtiest fuel to store and heat with coal is second to wood in environmental damage. Medical studies indicate airborne soot can be very damaging to one's health and improper operation can cause dangerous carbon monoxide fumes.

Kerosene Space Heaters: Outlawed in many states because of safety concerns, these heaters have the added drawback of running on a special fuel called K-1 or white kerosene. There are few bulk suppliers of this fuel, so not surprisingly, it cost 25 to 30% more than oil. In addition, few dealers carry these products which makes availability limited. If it needs service or cleaning, it usually must be removed from the living space. Life expectancy is short and replacement parts are very expensive.

Liquid Propane Space Heaters: Many people get fooled into purchasing these heaters because dealers neglect to mention that LP gas has significantly lower heat content (91,000 BTU for LP vs. 138,000 BTU for oil) than oil and it is typical 50 to 100% more expensive than oil. Plus, propane is not allowed to pass through certain bridges and tunnels or be installed in basements in some areas.
What's the best way to beat electric heat?
Oil fired System 2000
System 2000, designed and built in America, features a low mass, compact oil boiler integrated with a heavily insulated hot water storage tank and a solid state control panel, called the System Manager. It provides virtually unlimited hot water and offers zone control, allowing you to maximize cost savings while comfortably heating all areas of your home including additions, basement playrooms, Jacuzzis, hot tubs, even entire swimming pools. And it comes with a limited lifetime warranty. With oil's competitive cost, in terms of dollars and sense, Systems 2000 can usually provide both heat and hot water for less than electric hot water alone.
System 2000 provides superior operating efficiency.
System 2000 is more efficient than any other oil heating system because of its unique, low mass and purge cycle. Once the System has met your home's demand for heat, it pushes any remaining heat into your home or adds to the hot water in the water tank - ensuring that it will be longer before the System has to run again, so you use less energy resources and save more money.
Real Efficiencies (Idle Loss Findings)
This chart summarizes findings in U.S. Department of Energy's
Brookhaven National Labs studies.1

The large yellow numbers indicate real efficiencies.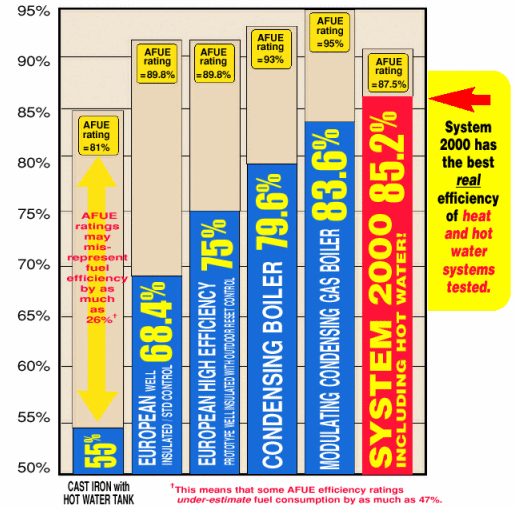 For hot water, System 2000 saves you even more.
A typical home uses an estimated 65 gallons of water a day. With System 2000, generating that hot water would require just 168 gallons of fuel oil a year, or about $155, based on 1997 fuel prices. In comparison, with an electric hot water heater, using an electric cost of $0.112 per kilowatt-hour (combined average of New England state in 1997), annual water heating costs were $606 - almost four times higher! Plus System 2000 can provide six times the amount of hot water as and electric heater. With System 2000 you have virtually an unlimited supply of hot water whenever you want it.
Chimneyless installation adds to your System 2000 savings
System 2000 burns fuel so cleanly and efficiently, it is one of the few oil heating systems that offers the versatility of through-the-wall venting, letting you avoid the high cost of chimney construction. Many homeowners who try to save money by converting from expensive electric heat to oil find themselves up against a brick wall: The high cost of chimney construction. But with System 2000 unique combustion chamber, combined with a 10 foot long flue passage, gases leave the system clean and relatively cool. This allows them to be vented directly through-the-wall. An excellent benefit for homeowners with heat pumps or new home constructions, too. Plus, its unique combustion chamber and boiler design also make it extremely quiet. Energy Kinetics? System 2000 optional Freedom Model can also be installed outdoors when indoor space is at a premium.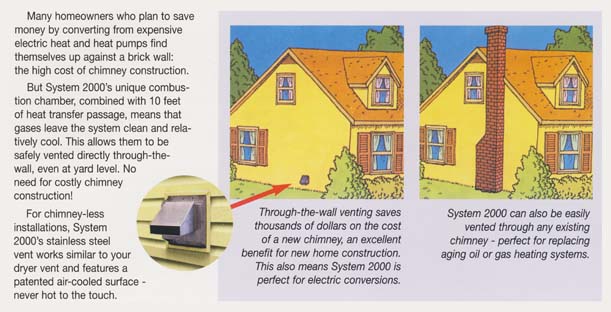 System 2000 helps save the environment.
...because it operates so efficiently, and burns so cleanly, System 2000 is one of the most environmentally-friendly heating systems available. By using significantly less fuel System 2000 also helps preserve valuable energy resources.
Save for years to come with System 2000
With System 2000 you get a state-of-the art heat and hot water system providing comfort for your entire home that will save you $1000-$2,500 year after year when compared to electric resistance heat. In fact, System 2000 will pay for itself in a few short years. Now, where else can you get a better, more secure tax-free return on your investment?
Count up the Benefits
- Highest Seasonal Efficiency of any commercially available oil heating system.
- Delivers virtually unlimited hot water.
- Substantially reduces heat loss up the chimney, through the jacket, through standby operation, and through room air loss, compared to conventional boilers.
- Whisper quiet operation.
- Zone controls for maximum comfort and savings.
- Chimneyless option makes installation economical.
- Certain models can be installed outside if there isn't enough room inside your house.
- Lifetime limited warranty.

AND System 2000 is available for use with natural gas, propane, or home heating oil.